<< Back to blog
Bancorp HSA Administration with Core Documents
Core Documents is pleased to offer Bancorp HSA administration to its clients. The Bancorp Bank offers a full range of services to HSA savings account holders and is FDIC insured. For more information, speak to Loretta at 1-888-755-3373.
What is The Bancorp HSA?
The Bancorp HSA is a full service financial portal with banking services provided by The Bancorp Bank. The Bancorp Bank is a full-service, FDIC insured institution that offers a wide range of personal and business financial services nationwide.
Is my account information with The Bancorp HSA secure?
Absolutely. Your account information with The Bancorp HSA resides in The Bancorp Bank's high-security data warehouse, and it is accessible only to you and a handful of highly trusted bank employees who have the required passwords. The Bancorp Bank does not share any non-public information about its customers with any third party, except as disclosed in our Privacy Policy.
Learn more about The Bancorp Bank.
The Bancorp Bank  designed The Bancorp HSA to enable you to do your banking via the Web. In most cases, you will be able to find everything you need online.
We are available 24/7 to assist you with any questions the following FAQs do not address. You may contact us by phone at 1-888-755-3373, speak to Loretta.
To get you started, here is a list of frequently asked questions and answers.
See The Bancorp HSA Administration Welcome Brochure:
https://mybancorphsa.mybankingservices.com/Global/Forms/064/WelcomeKit.pdf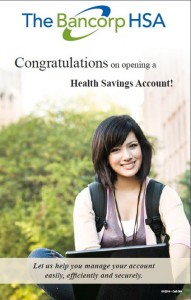 Funding Options
Employer Funding Options
Our Employer Funding Portal is a free online service that allows you the employer to make deposits to employees' Health Savings Accounts through a secure website with The Bancorp Bank, making it easy for you to contribute to your employee's HSA with options that suit your needs.  Consider the frequency and types of contributions you will be making when selecting an option.  You may change your method as needed.Options Include:
Detailed information on our funding options can be found here as well as within the employer guide.