Cafeteria Plan Administration Software
$49 Section 125 FSA | HSA | HRA | Cafeteria Plan Administration Software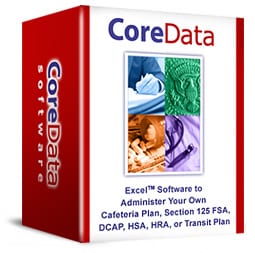 .
Section 125 Administration Software
Transit Plan Administration Software
Flex Plan Administration Software
FSA Administration Software
HSA Administration Software
HRA Administration Software
Regularly $69 – On Sale for $49 for a limited time
It doesn't matter what you call it, CoreData does it all when it comes to administering Medical and Dependent Care FSA Plans and HRA Plans.
CoreData Flex Administration software is no regular Excel Spreadsheet Template. You get a robust 12 megabytes of flex plan administrative capabilities designed by one of the foremost experts in Excel spreadsheet design. CoreData looks and operates more like a state-of-the-art software program than an Excel Spreadsheet.
For years, Core Documents has been telling clients they could administer their own Cafeteria Plans with a simple Excel Spreadsheet. One day a client asked us the obvious question: Do you have a spreadsheet template we can use? I had to say; No, we don't.
After I hung up, I spent almost two weeks looking for one, I learned that a simple flex administration Excel template didn't exist. So, I immediately went to work to commission a project with one of the foremost experts in Excel Spreadsheet template design to build the best program for administering flex plan accounts. We spent more on the Cafeteria Plan Administration Software Excel Template design than most top of the line TPA flex software programs cost.
Ease of use was my main criteria: Anyone can easily learn how to use this program in just a few minutes, experience with Microsoft Excel is not necessary.
No other program offers so much versatility for so little!
Section 125 FSA, HSA, HRA or Transit plan Cafeteria Plan Administration Software doesn't get any easier than this, and the best part is: It's affordable!
Most flex plan administration software vendors have traditionally priced their product based on how many employees you have; however, what they really want to know by asking that question is how much you'll save in taxes using their tool. Then, they base the price of the software on how much they anticipate you will save in taxes. Doing it yourself meant giving most of the tax savings to the software vendor.
Not anymore! CoreData has the best price in the country for Cafeteria Plan Administration Software to administer Flex Plans, FSAs, HRA, HSA or Transit and Parking benefit plans.
Here's what you get with CoreData:
A robust 12-megabyte Excel template complete with three databases;
An easy to use 3-step process: Enter employees, enter elections, enter claims;
Numerous standard reports built in and capable of displaying all the data in the system;
Numerous automated functions to save keystrokes;
Employee, plan type, plan year, and claim drop-down menus throughout the program;
Plan year drop-down menus allowing you to operate in multiple years;
A database that takes you through 2030 (and is simple to update for the next 25 years);
The capacity to handle up to 200 employees; and,
Allows employees to participate in Medical FSA, Dependent Care FSA, HSA, HRA, and Parking & Transit plans simultaneously.
And it's all yours for only $49 via email attachment. If you prefer, get the CD version in the mail for $69.
Decide which media best serves your needs and click below to order today:
Plan 1-CDA – CoreData Email Version $49
Plan 2-CDA-D – CoreData Program CD By Mail $69
Email orders are filled 9 AM to 5 PM – M-F, excluding holidays, to the email address of the credit or debit card you provide on the form. Requires Microsoft Excel to operate.
---
Please note: CoreData is designed to easily track claims, benefit expenditures and account balances for each employee participating in either a Cafeteria Plan, stand-alone Medical FSA, stand-alone Dependent Care FSA, HRA Plan or Section 132 Commuter Plan. It does not generate Plan Documents and does not include FSA or HRA administrative procedures. Administrative procedures should be in your Plan Document and Summary Plan Description, custom-designed for your specific benefit plan.