<< Back to blog
Tax-free Employee Benefits that Require Core Plan Documents in 2023
Employers can easily miss that the IRS requires all tax-saving benefit plans to have a plan document prepared, activated, and kept on file. That can have significant tax consequences for the employee and employer alike. Our new employer resource can help determine Tax-free Employee Benefits that Require Plan Documents.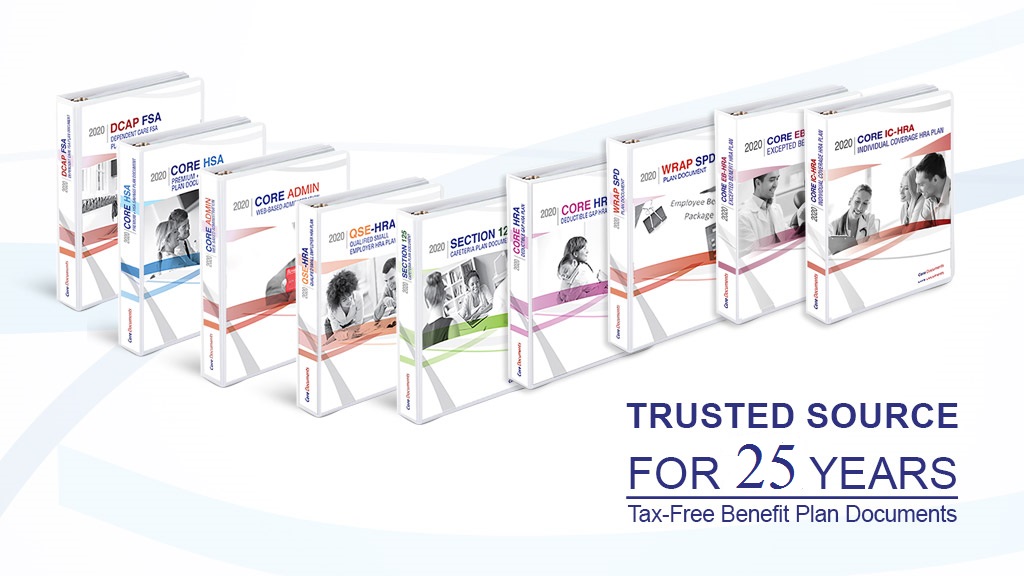 It's clearly stated in a lot of the articles and blog posts on our web site: "All the IRS requires of an employer to establish this tax-saving benefit for employees is a written plan document."
This requirement is stated in Section 125 of the U.S. Code and falls under Employee Retirement Income Security Act (ERISA) rules for health plans and benefits.
What's in a plan document?
A proper plan document is prepared according to the plan type and the employer's specifications for how the plan works. The information in the plan must meet ERISA standards with applicable disclosures, all in language plain enough for the average employee to read and understand.
With this customization in mind, no two plan documents will be alike. Doing it right involves much more than making a copy or filling in blanks on a template.
How can employers simplify the process?
Core Documents makes it easy with our comprehensive customization process that begins with the employer providing plan information on our application (online or download). Plan consultants are available via phone or email to answer your questions and will contact you if any part of the application is incomplete or unclear.
Once the application is processed, the plan document is returned via email, usually the same business day. From there, it is a simple matter of signing where indicated, copying the Summary Plan Description (SPD), election and claim forms* to employees, and keeping the plan document on file and available for viewing. There is no need to file the completed plan document package with any government agency.
Employer Brochures:  https://www.coredocuments.com/core-documents-releases-new-product-brochures-for-tax-free-benefit-plan-document/
Free employer resource
To help employers get started, Core Documents offers an information sheet entitled, Tax-free Employee Benefits that require plan documents. Use it to determine whether or not your benefit plan needs one (it probably does) and to quickly make an initial comparison of all available benefit plans.
Below is a preview of the sheet. Click on the preview to open the .pdf version for printing and download.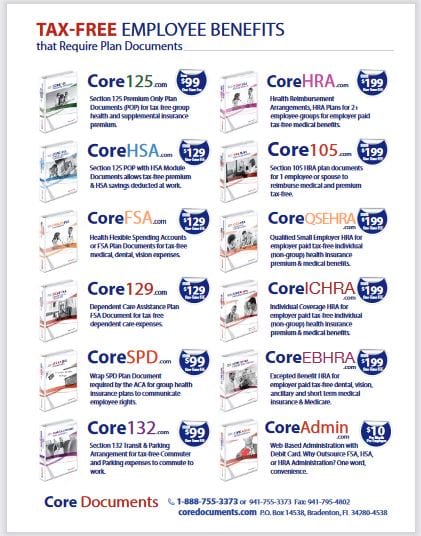 *The ICHRA and QSEHRA have an additional Notice to Employees that is copied and given to eligible employees.
---
No annual fee — Core Documents does not require an annual renewal fee to maintain your plan document package. A plan document only needs to be updated when there are changes in the plan or in the law that make it necessary. We will notify you when there are sufficient changes in the Code to require amending and restating your Plan and ask that you keep us informed when there is a change to your plan.  You can amend and update your plan document anytime, at a discounted fee and only when necessary, which is the most cost-effective way to maintain it.
Fast Service — Most orders placed by 3 PM are returned via email the same day, Monday through Friday. Weekend orders are sent out Monday morning. Plan document packages are processed in the order received. During our busiest months (December, January, and February), the rush order fee (see order form) marks your document to be processed immediately.
The Trusted Source of Affordable Benefit Plan Documents for over 25 Years.
Core Documents is the country's leading provider of cost-effective, tax-saving benefit plan documents for Section 125 Cafeteria plans and Health Reimbursement Arrangements. The Trusted Source since 1997, thousands of satisfied agents and employer groups nationwide rely upon Core Documents for free plan design consulting services, plan document updates, ERISA Wrap SPDs, and administration services.