HSA Savings increase via Section 125 POP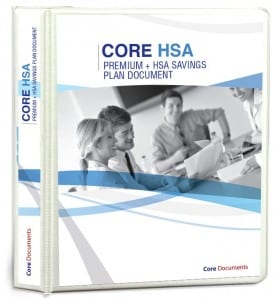 Save an Extra 8% with Tax-Free

Insurance Premium & HSA Savings at Work



$129 one-time fee

in PDF via email*
$179 one-time fee

in PDF email* + Deluxe Binder via USPS

The Section 125 Plan plus the HSA Savings module from Core Documents allows employees to realize an additional 8% in Social Security and Medicare (FICA) tax savings by using pre-tax employee dollars to fund a Health Savings Account (HSA).

However, this extra tax savings is lost to both the employer and the employee if the HSA savings is deducted on the employees annual tax return instead of pre-tax payroll deduction in an employer-sponsored Section 125 plan.

Tax savings for the employer usually average between 8% and 10%. This savings comes from the employer's matching Social Security (FICA), Federal Unemployment (FUTA), and often state unemployment tax dollars while employees save an additional 7.65% in FICA taxes.

Core Documents provides employers with everything they need to establish an IRS- and DOL-compliant Section 125 with the HSA Savings module plan in PDF format for just $129. This cost reflects a one-time setup fee, not an annual charge.
| | |
| --- | --- |
| | |


---
*Most complete document orders placed by 3 PM will be emailed out the same day Monday through Friday. Orders placed on weekends are emailed out Monday morning. Keep in mind that December, January, and February are our busiest months of the year and documents are processed in the order they are received. The Rush Order fee ($25) simply brings your document to the top of the stack to be processed immediately.
**Core Documents will notify you when there are sufficient changes in the Code to require amending and restating your Plan. You can amend and update anytime for just $79, and only when necessary, which is the most cost effective way to establish and maintain a Section 125 Plan.
---
Read more about HSA Savings in a Section 125 Plan:
HSAs benefit small business employers: In the news
Video: How to set up a pre-tax Health Savings Account for your employees
Section 125 Premium Only Plan Document from $99 one-time fee (with FAQs)
HSA Contribution Limit Rises for 2019 — IRS RP 2018-30
IRS Publication 502: Medical and Dental Expenses (list of elible products/services)