<< Back to blog
Video: Core COVID-19 pandemic relief amendment for Section 125 plan documents
Learn how employers can easily add mid-year elections for group health insurance and FSA plans in our latest video: Core COVID-19 pandemic relief amendment for Section 125 plan documents.
Brochure: Pandemic Relief for Group Health Plans (Core COVID-19)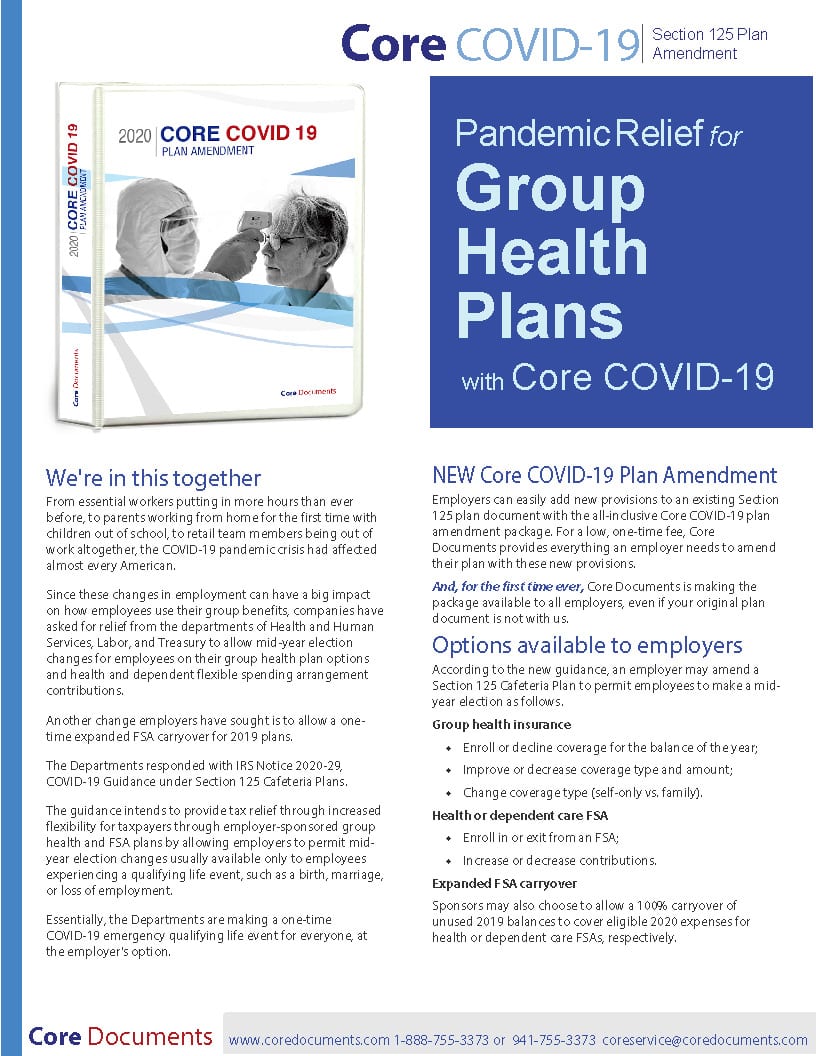 Learn more:
COVID-19 relief: Section 125 Plan amendment just $49*
Section 125 COVID-19 relief: IRS on 2020 mid-year elections, FSA claims
Coronavirus "CARES Act"; restores OTC coverage for FSAs, HRAs, HSAs
Coronavirus health emergency: HDHPs can cover testing with HSA
PPP loan rules: HRA plans qualify as payroll expense for loan forgiveness
COVID-19 GUIDANCE UNDER § 125 CAFETERIA PLANS . . . (IRS)
The Trusted Source of Affordable Benefit Plan Documents for over 20 Years.
Core Documents is the country's leading provider of cost-effective, tax-saving benefit plan documents for Section 125 Cafeteria plans and Health Reimbursement Arrangements. The Trusted Source since 1997, thousands of satisfied agents and employer groups nationwide rely upon Core Documents for free plan design consulting services, plan document updates, ERISA Wrap SPDs, and administration services.
No annual fee — Core Documents does not require an annual renewal fee to maintain your plan document package. A plan document only needs to be updated when there are changes in the plan or in the law that make it necessary. We will notify you when there are sufficient changes in the Code to require amending and restating your Plan and ask that you keep us informed when there is a change to your plan.  You can amend and update your plan document anytime, at a discounted fee, and only when necessary, which is the most cost-effective way to maintain it.
Fast Service — Most orders placed by 3 PM are returned via email the same day, Monday through Friday. Weekend orders are sent out Monday morning. Plan document packages are processed in the order received. During our busiest months (December, January, and February), the rush order fee (see order form) marks your document to be processed immediately.
Refund Policy: Goods and services provided by Core Documents, Inc. are non-refundable upon receipt. Orders canceled prior to shipping are subject to a fee to cover the cost of goods and services provided during the review, draft, and preparation of your order.