All employers want to take advantage of Section 125 and HRA tax-advantaged healthcare solutions offered by Core Documents; however, some may not want to deal with the day to day issues of administration or the HIPAA liability that comes from handling employees' protected health information.
For these clients, CoreAdmin now offers a state-of-the-art online portal for Section 125, FSA, DCAP, HSA, and HRA plan administration, plus the added convenience of a debit card for every employee.
Debit cards allow your employees to instantly access their account balance. Employees will no longer have to wait for reimbursement.
Employees can also: enroll online, make instant changes to their information, and access their account balances and information via any Internet connection, any time of the day, seven days a week. This virtually eliminates internal inquiries by employees about their plan.
How much does Section 125 and HRA Administration cost?
Unlike many administrators of Section 125 or HRA plans, CoreAdmin does not have a minimum participant monthly charge for small employers, but, the Administrative Service is provided for our Plan Document clients only.   The Plan Document must be current and comply with the latest IRS and DOL guidelines.  A minimum Set-Up Fee* will apply, but the Monthly Fee is just $10.00 per Participating Employee per month (pepm) for 1-5 participants.
Section 125 FSA and HRA Administrative Fees are per employee, per month (pepm):
| | | |
| --- | --- | --- |
| Group Size | Set Up Fee* | Monthly Fee |
| 1-5 employees | $10.00 pe once | $10.00 pepm |
| 6 -10 employees | $9.00 pe once | $9.00 pepm |
| 11-20 employees | $8.00 pe once | $8.00 pepm |
| 21 -50 employees | $7.00 pe once | $7.00 pepm |
| 51+ please call for a quote | Call | Call |
---
*A minimum Set-Up Fee of $50.00 for FSA Plans will apply if you have less than five (5) participating employees.  A minimum Set-Up Fee of $100.00 for HRA Plans will apply if you have less than thirteen (13) participating employees.  The Per Participating Employee (pe) Set-Up Fee will be charged for new participants added more than 30 days after the initial Set-Up.
---
Primary Section 125 & HRA Administrative Services include the following:
Section 125 and/or HRA Account Management

Section 125 and/or HRA Enrollment and Fulfillment

Section 125 and/or HRA Communication materials

Section 125 or HRA Customer Services

Section 125 FSA claim adjudication and reimbursement

Section 125 or HRA Compliance
Speak to
Loretta or Danielle

Set up is quick and easy!
1-888-755-3373

(ext. 1005)
941.548.4719 Direct
---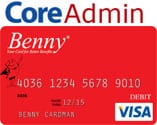 Registering your health benefit debit card

After you receive your BennyCard, register at https://mybenny.com (click on "Please Register").You will need:
Your "Member ID" (which is your Social Security Number),
The account number on your new BennyCard, and
Your zip code.
If your would like to select a PIN to be used with your BennyCard, call 1-866-898-9795 (the Durbin Amendment PIN FAQ can be viewed at "Forms & Letters" under the "Resources" tab at the Benefits Portal).
---

---
Why outsource administration? Convenience! — Core Admin services for HRA, HSA, FSA