<< Back to blog
IRS Publication 502 Medical Expense: What can be deducted tax-free?
---
Great news! FSA, HSA, and HRA rules change to eliminate the prescription requirement for over-the-counter medical products and the addition of menstrual products to eligible items list. Learn more . . .
---
Publication 502 – Main Content
---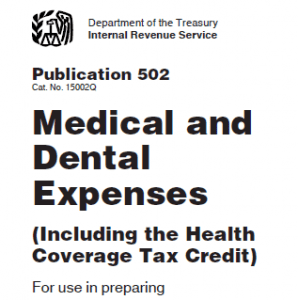 Table of Contents
Medical expenses are the costs of diagnosis, cure, mitigation, treatment, or prevention of disease, and the costs for treatments affecting any part or function of the body. These expenses include payments for legal medical services rendered by physicians, surgeons, dentists, and other medical practitioners. They include the costs of equipment, supplies, and diagnostic devices needed for these purposes.
Medical care expenses must be primarily to alleviate or prevent a physical or mental defect or illness. They do not include expenses that are merely beneficial to general health, such as vitamins or a vacation.
Medical expenses include the premiums you pay for insurance that covers the expenses of medical care, and the amounts you pay for transportation to get medical care. Medical expenses also include amounts paid for qualified long-term care services and limited amounts paid for any qualified long-term care insurance contract.
You can include only the medical and dental expenses you paid this year, regardless of when the services were provided. (But see Decedent under Whose Medical Expenses Can You Include, for an exception.) If you pay medical expenses by check, the day you mail or deliver the check generally is the date of payment. If you use a "pay-by-phone" or "online" account to pay your medical expenses, the date reported on the statement of the financial institution showing when payment was made is the date of payment. If you use a credit card, include medical expenses you charge to your credit card in the year the charge is made, not when you actually pay the amount charged.
If you did not claim a medical or dental expense that would have been deductible in an earlier year, you can file Form 1040X, Amended U.S. Individual Income Tax Return, for the year in which you overlooked the expense. Do not claim the expense on this year's return. Generally, an amended return must be filed within 3 years from the date the original return was filed or within 2 years from the time the tax was paid, whichever is later.
You cannot include medical expenses that were paid by insurance companies or other sources. This is true whether the payments were made directly to you, to the patient, or to the provider of the medical services.
Separate returns.
If you and your spouse live in a noncommunity property state and file separate returns, each of you can include only the medical expenses each actually paid. Any medical expenses paid out of a joint checking account in which you and your spouse have the same interest are considered to have been paid equally by each of you, unless you can show otherwise.
Community property states. If you and your spouse live in a community property state and file separate returns or are registered domestic partners in Nevada, Washington, or California, any medical expenses paid out of community funds are divided equally. Generally, each of you should include half the expenses. If medical expenses are paid out of the separate funds of one individual, only the individual who paid the medical expenses can include them. If you live in a community property state and are not filing a joint return, see Publication 555, Community Property.
Generally, you can deduct on Schedule A (Form 1040) only the amount of your medical and dental expenses that is more than 10% of your AGI. But if either you or your spouse was born before January 2, 1949, you can deduct the amount of your medical and dental expenses that is more than 7.5% of your AGI.
You can generally include medical expenses you pay for yourself, as well as those you pay for someone who was your spouse or your dependent either when the services were provided or when you paid for them. There are different rules for decedents and for individuals who are the subject of multiple support agreements. See Support claimed under a multiple support agreement , later under Qualifying Relative.
Following is a list of items that you can include in figuring your medical expense deduction. The items are listed in alphabetical order.
This list does not include all possible medical expenses. To determine if an expense not listed can be included in figuring your medical expense deduction, see What Are Medical Expenses , earlier.
Read more at: https://www.irs.gov/publications/p502/ar02.html

Core Documents, Inc. has been providing free consulting, affordable plan documents, and plan updates as needed for Section 125 Cafeteria Plans and Health Reimbursement Arrangements since 1997. See more information about these fringe benefit plans at Core Documents' website: https://www.coredocuments.com, or call toll free 1-888-755-3373.
 IRS Publication 502 Deductions — blog posts from Core Documents:
HRA Guidance: Permanent Fix Needed for Small Employers, Says NASE
Expenses that qualify for reimbursement by Section 125 POP, FSA, 132 & HRA plans
Employers must prepare an ERISA Wrap SPD to supplement the Certificate of Insurance