<< Back to blog
Pre-Tax Eligible Premiums in Section 125 Premium Only Plan
Core Documents presents a clear list of employee benefit premium in a Section 125 Premium Only Plan that are and those that are not deductible tax-free to help our clients and friends looking for a quick answer.
Eligible Premiums in Section 125 Premium Only Plan

Employee's portion of Group Health Insurance
Premiums for another employer's group insurance plan that are not already tax free, such as COBRA continuation coverage
Dental Insurance (not purchased through State/Federal Exchange?)
Vision Insurance
Cancer Insurance
Critical Care Insurance
Hospitalization Insurance
Voluntary Federal Medicare insurance
– Medicare Part "B" Plan premiums
– MedAdvantage Plan premiums
– Medicare Supplement Plan premiums
– Medicare Part "D" Plan premiums
Disability, loss of limbs, sight or similar benefits (STD/LTD)
Group Term Life
Accidental Death and Dismemberment
Premiums that Can Not be Pre-Taxed
Premiums for major medical Health purchased through State/Federal Exchange
Premiums tax-advantaged through subsidy or tax credit
Life Insurance
Premiums that are tax-free through another employer or other source
Long-Term Care Insurance
Don't miss these recent blog posts related to Section 125 Plans:
Glossary of Terms: Section 125 Plans — $99 Core Documents
Why Amend and Restate Section 125 Cafeteria Plan Documents? IRS Rulings since 1999 on one page.
Insurers on Obamacare: Expect Premium Prices to Soar
Small Business Healthcare Relief Act H.R. 5447 Would Create Safe-Harbor for Non-Exchange Individual Health Insurance Premium HRA Plans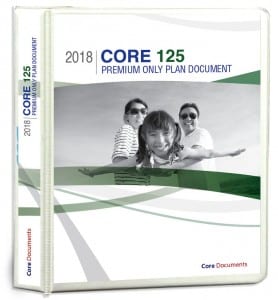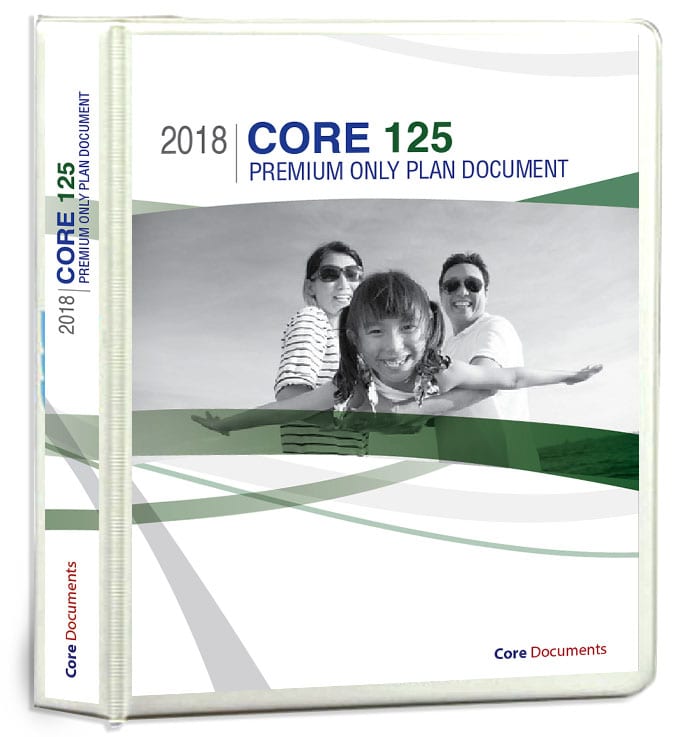 Core Documents provides employers with everything they need to establish an Section 125 POP Plan in PDF form for just $99. This cost reflects a one-time setup fee, not an annual charge like their competitors.
Core Documents, Inc. has been providing free consulting, affordable plan documents, and plan updates as needed for Section 125 Cafeteria Plans, Wrap SPD and Health Reimbursement Arrangements since 1997.
See more information about these fringe benefit plans at Core Documents' website: https://www.coredocuments.com, or call toll free 1-888-755-3373.
Online Section 125 Premium Only Plan Order Form
Fax PDF Section 125 Premium Only Plan Order Form