Commuter Transit & Parking FSA Plan Document
Employees Save up to $2,448* with Tax-Free Commuter Transit & Parking Expenses

$99 one-time fee in PDF via email**
$149 one-time fee in PDF email** + Deluxe Binder via USPS
Internal Revenue Code Section 132 and the Transportation Equity Act for the 21st Century (TEA-21) allow employers and employees to set aside up to $520 a month in tax-free Transit and Parking FSA accounts to pay for Transit and Parking expenses. The employee isn't taxed on these amounts whether paid by the employer or through employee payroll deduction.
Qualifying expenses generally include payments for the use of mass transportation and for parking (see further details below).
For 2018 the maximum monthly pre-tax contribution for mass transit and van-pool allowance is $260.00; with an additional monthly allowance of $260.00 for parking. For complete details on the 2018 IRS Inflation Adjustments please view: https://www.irs.gov/pub/irs-drop/rp-17-58.pdf 
For 2019 the maximum monthly pre-tax contribution allowance increases by $5 per month. For mass transit and van-pool the monthly allowance is $265.00; with an additional monthly allowance of $265.00 for parking. For complete details on the 2019 IRS Rev Proc 2018-57 Inflation Adjustments please view: https://www.irs.gov/pub/irs-drop/rp-18-57.pdf
* Tax-Free Transit Passes + Parking Expense = up to $2,448 tax-savings per employee; and $468 tax-savings to the employer per employee.
$510 per month x 12 months x up to 40% tax bracket = $2,448 income + payroll tax saving to employee
$510 per month x 12 months x 7.65% FICA tax rate = $468.19 payroll tax savings to employer (per employee, per year)
The IRS and DOL only require employers to adopt a formal plan document and SPD to define the benefit design in writing. Then you start saving money.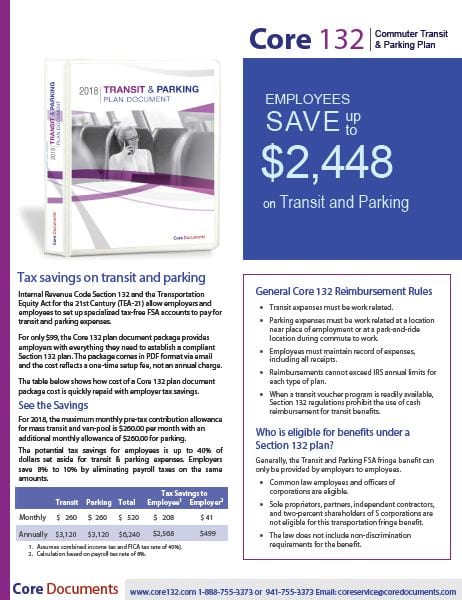 Core Documents will notify you when there are sufficient changes in the Code to require amending and restating your Plan.  You can amend and update anytime for just $79, and only when necessary which is the most cost effective way to establish and maintain a Section 132 Commuter Transit and Parking Plan.
**Most complete document orders placed by 3 PM will be emailed out the same day Monday through Friday. Orders placed on weekends are emailed out Monday morning. Keep in mind that December, January, and February are our busiest months of the year and documents are processed in the order they are received. The Rush Order fee ($25) simply brings your document to the top of the stack to be processed immediately.

Trusted Source since 1999
Since 1999, Core Documents has been providing employers with everything they need to successfully establish a IRS Section 132 Transit and Parking FSA Benefit Plan. While neither Section 132(f) or the DOL require a formal plan document, many employers prefer to define the new benefit with a Core 132 package that includes the plan document and summary plan description, along with election and claim forms for their employees.
How Section 132 Works
The Transit and Parking FSA fringe benefit is similar to the pre-tax flexible spending accounts available for medical expenses and dependent care. One important difference, however, is that the transportation benefit does not include any "use it or lose it penalty," as is the case with the other flexible spending accounts.
Before the start of the Section 132 plan year, individual employees electe to set aside a certain amount of pre-tax salary to cover qualified costs of commuting to work. The employee will designate up to $260.00 per month for mass transit expenses and a separate amount up to $260.00 per month for parking expenses. Separate reimbursement accounts are maintained for each category and funds cannot be commingled or transferred between the transit and parking accounts.
As the employee incurs Section 132 expenses during the year, a request form is submitted to the employer for reimbursement. If the employee does not use the full amount before the end of the program year, the left over amount is carried forward to the next year.
Who is Eligible Under Section 132
As a general rule, the Transit and Parking FSA fringe benefit can only be provided by employers to employees. Common law employees and officers of corporations are eligible. Sole proprietors, partners, independent contractors, and two-percent shareholders of S corporations are not eligible for this transportation fringe benefit. The law does not include non-discrimination requirements for the benefit.
Qualified parking expenses



Parking expenses that can be paid with pre-tax dollars include the cost of:
Parking a vehicle in a facility that is near the employee's place of work, or


Parking at a location from where the employee commutes to work (for example, the cost of parking in a lot at the train station so that the employee can continue his/her commute on the train).
 Qualified mass transit expenses
This part of the benefit covers transit passes for mass transportation to and from work.
Qualified amounts include costs of any pass, token, fare card, voucher, or other item that entitles the employee to use mass transit for the purpose of traveling to or from his/her place of work.
However, when a transit voucher program is readily available, Federal regulations prohibit the use of cash reimbursement as a way to provide transit benefits.
The mass transit can be a public system, or a private enterprise provided by a company/individual who is in the business of transporting people in a "commuter highway vehicle,"defined in part as:

Having a seating capacity for six or more adults (not including the driver);

At least 80% of the of the vehicles' mileage is from transporting employees to and from their place of work; and,

Carries at least three passengers (not counting the driver).
Commuter highway vehicles may be owned or leased by an employer to be used by employees or a third-party provider for transportation purposes. Employees can also own and operate commuter highway vehicles.
Tax Savings
Federal income tax and social security (FICA) tax are not imposed on amounts set aside for IRS Section 132 qualified Transit and Parking FSA expenses. Depending on state law, individuals may also avoid state and local income taxes on earnings set aside.
The federal tax savings can be as much as 40% (income tax plus 7.65% FICA), or more than $2,000 annually, if the maximum employee contributions are made to each reimbursement account.
The employee's future social security benefits may be slightly lower because the amounts set aside for the Section 132 transportation costs are not subject to FICA tax. In most cases, this reduction in the social security wage base will have a nominal effect on future social security benefits.
These are some thoughts to consider about the Section 132 Transit and Parking FSA fringe benefits. Your financial adviser can also provide additional information and should be consulted before any action is taken.

Refund Policy: Purchaser understands that goods and services provided by Core Documents, Inc. are non-refundable. Orders cancelled prior to shipping are subject to cancellation fees applied to the cost of goods and services provided during the review, draft, and preparation of your order.
Our friendly and knowledgeable staff is available to
answer any questions you may have via e-mail or phone call,
Monday through Friday, 9 am to 5 pm ET:
1-888-755-3373

Recent blog topics regarding Transit and Parking Qualified Transportation Fringe Benefit Plan: