Section 125 Premium Only Plan Documents for only $99.00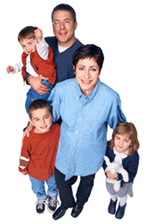 The $99 Section 125 Premium Only Plan Document from Core Documents, or a POP Plan as some refer to them, also known as a Cafeteria Plan, is an essential part of any employer group health insurance and ancillary benefit program.
Section 125 is the part of the Internal Revenue Code that allows employees to purchase health insurance and other ancillary benefits tax free. A Section 125 Plan legally allows your employees to pay their portion of medical insurance premium and other ancillary benefits premiums using pretax or tax-free dollars.
See an important blog post and press release by Core Documents titled: How Health Care Reform Affects Section 125 Premium Only Cafeteria Plans January 1 2015
Also see an important consumer warning blog post: Insurers on Obamacare: Expect Premium Prices to Soar
Don't miss these recent blog posts:
Pre-Tax Individual Health Insurance with Section 125 Premium Only Plan Document
TASC's Position on 2013-54 Individual Health Insurance Premium & Section 125 & HRA Plans
Core Documents provides employers with everything they need to establish an IRS and DOL compliant Section 125 POP Plan for only $99.00 (one-time setup fee) in PDF version emailed to you as soon as your document is completed. For $149, you can receive the Deluxe Binder option that includes the PDF email version ASAP, and a printed plan document in a 3-ring binder shipped via Priority Mail.
How Employees Benefit from a Section 125 Premium Only Plan
Employees avoid paying any income tax on premiums they pay through a Section 125 Plan. The premium is actually deducted before the taxes are calculated. This means an employee doesn't have to make $300 in order to pay a $200 insurance premium because the tax liability is immediately eliminated. Qualifying insurance premium is more affordable to your employees when utilizing a Section 125 plan. Employees save 22.65% to 40% of their pre-tax Section 125 premium deductions in just federal income taxes alone. The actual tax savings are on city, state, and federal income taxes, including Social Security and Medicare taxes on all money employees use to pay for their portion of insurance premiums. Under a Section 125 POP employees take-home pay is increased which helps reduce the high cost of providing health coverage for family members.
How Employers Benefit from a Section 125 Premium Only Plan. A Section 125 Premium Only Plan is unique in that it is one of the few employee benefit plans that will continually pay dividends back to the employer. A Section 125 Plan does this by eliminating the 7.65% in employer matching Social Security and Medicare taxes, and sometimes Federal and State unemployment taxes. Depending on the state, employers may also be eligible for workers compensation savings. See an example of tax savings at the Cafeteria Plan Savings page. Bottom line, employers who establish Section 125 Plans actually recoup the small $99 one-time fee quickly and then continue to realize tax savings year after year after year.
Who Can Participate in a Section 125 Premium Only Plan. Employees of regular corporations, S corporations, limited liability companies (LLCs), partnerships, sole proprietors, professional corporations, and not-for-profits can all reduce payroll taxes by establishing a Section 125 Premium Only Plan. While the Code prohibits a sole proprietor, partner, members of an LLC (in most cases), or individuals owning more than 2% of an S corporation from participating in the Section 125 POP, owners may still benefit from the savings on payroll taxes by sponsoring the plan for their employees.
When Is The Best Time To Start a Section 125 Premium Only Plan? Contrary to popular belief a Section 125 Premium Only Plan can be started any time during the year. The best time to establish a Section 125 plan is when your group health insurance plan renews. Because most groups receive rate increases at renewal this is the ideal time to allow employees to sign a new Section 125 Election form prior to the new Plan Year. It is also quite acceptable to start a new short Plan Year anytime. Say it's May, and you prefer a calendar Plan Year from January 1 to December 31. You can start a Short Plan Year, say on June1 and end the first Short Plan Year on December 31. After December 31 your Section 125 Plan will be on a calendar year from January through December.
What About Existing Section 125 Plans Already In Place That Need To Be Updated? If you already have a Plan you started years ago, you can amend and restate the Plan anytime. Our order forms address the amended and restated document dates. We simply need the original start date of your old plan so we can maintain the continuity back to the original start date. It's not unusual for a group to misplace a Plan Document and need to replace it. This is a good time to update the old plan with current plan documents. If your document was written before 2002, it certainly needs to updated as soon as possible. So many changes have taken place in IRS Code and new laws that today's Plan Document is almost 15 pages larger than documents prior to 2002. This means you may be making administrative decisions based on outdated information.
So I've Purchased A Section 125 Plan Document, What's Next? This question is asked more frequently than any other. You'll purchase a single-use license agreement for a Section 125 Premium Only Plan Document for either the Basic PDF version or the Deluxe Binder version. These are not template, fill-in the blank documents. Each Section 125 Plan document is specifically prepared for each client based on the information provided in the application.
Administration of the plan is very simple. An outside administrator or software is not necessary to administer a Section 125 Premium Only Plan.
Usually within a week* you'll receive your Section 125 Plan in a one inch ring bound notebook with a Resolution to Adopt the Plan, an IRS required Section 125 Plan Document, a DOL required Summary Plan Description, Election Forms, and a complete Administrative Section. For a small additional fee you can purchase some of the documents on a CD disk.
Every employee should receive a copy of the Section 125 Summary Plan Description and an Election Form. Election Forms should be signed by employees for specific approved deductions and kept on file. For your convenience we provide you with a one page summary of all Section 125 Plan Sponsor responsibilities. The document does not have to be filed with the IRS or the DOL, or any other government entity. Annual 5500 reporting was suspended in 2002 and no longer required.
You will be required to conduct Section 125 non-discrimination testing annually. Core Documents will include DIY discrimination testing forms to assist you in this process. You'll need to sign the Section 125 Plan Document in two place and have it available in the event of an IRS audit, or the DOL asks to see a copy, or an employee asks to view the document, or you need to refer to it for administrative guidance.
* Most plan documents do go out within a week. Keep in mind that December, January and February are our busiest months of the year and documents are processed in the order they are received. The Rush Order fee simply brings your document to the top of the stack to be processed immediately.
Refund Policy: Purchaser understands that goods and services provided by Core Documents, Inc. are non-refundable. Orders cancelled prior to shipping are subject to cancellation fees applied to the cost of goods and services provided during the review, draft, and preparation of your order.
Download the Core Documents Section 125 Cafeteria Plan Employer Guide HERE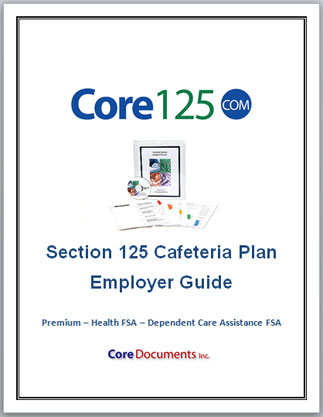 Recently blog topics regarding Section 125 Plans:
How To Compare Health Insurance Rates for Small Businesses
Rules for small employer health insurance premium credit
Why Use CoreDocuments.com instead of TaxFreePremiums.com for $99 Section 125 Premium Only Plan POP Documents?
Beware of using an old or FREE Section 125 Premium Only Plan Template
Do I need a Section 125 Premium Only Plan Document?
Pre-Tax Individual Health Insurance with Section 125 Premium Only Plan Document
TASC's Position on 2013-54 Individual Health Insurance Premium & Section 125 & HRA Plans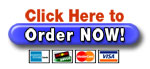 [Phone]
1-888-755-3373
[Email]

Contact Details