<< Back to blog
Small Business HRA Relief becomes law – Core Documents offers package for $199
21st Century Cures Act includes Small Business HRA relief law
While the new law brings small business HRA relief to all small employers, only those who know the history of the stand-alone HRA can truly appreciate its value. Here is a brief history of the law.
Prior to implementation of the Affordable Care Act (ACA),  employers could offer a Health Reimbursement Arrangement (HRA) to their employees without having to incur the additional expense of first paying for a health insurance policy for the employees. It was the perfect middle ground: affordable to the small employer and assistance with health care expenses for the employee.
In 2013, however, that changed. IRS Notice 2013-54 required that any group HRA include at least a minimum coverage group insurance plan with the employer paying a significant portion of the premium for all employees equally. Giving those HRA dollars to an employee as reimbursement for individual health coverage no longer qualified. That change made it impossible for many small employers to offer any form of assistance to employees for their health care costs.
Most small companies want to provide some help to their employees this way, but the high cost of insurance required with the HRA was out of their reach. That's when legislators began to look for a way to fix this problem for those employers.
Because so many small business owners were awaiting passage of legislation that would bring significant financial relief when it comes to providing help to employees with their medical costs, Core Documents has been tracking the progress of H. R. 5447, the Small Business Healthcare Relief Act.
The Act was introduced into the House of Representatives on June 10, 2016, where it passed by voice vote on June 21, 2016. Then, on December 7, 2016, the Senate passed it as part of the 21st Century Cures Act. The President signed the Act into law a week later, on December 14, 2016, and immediately Core Documents made its tax- and cost-saving Small Business HRA available at a low introductory cost of $199.
Thousands of small employers will be taking advantage of this new (returned) HRA benefit option that includes:
Tax Savings
The HRA is funded pre-tax, saving the employer federal, state, local, and FICA dollars. This can amount to hundreds or more in tax reductions each year. Those savings can start on January 1, 2017, when the law goes into effect.
However, unlike other reimbursement arrangements, the HRA is not pre-funded. The employer makes reimbursements to employees up to the eligible limit per employee without having to first set aside the funds in a special account.
Employee Benefits
Employees buying insurance in the ACA Marketplace using tax credits to reduce their premium are still eligible for those dollars that remain after reconciling the new HRA dollars (for more details on how that works, see our FAQs article).
The HRA is entirely employer-funded, meaning the employee does not have to contribute and the benefit is not taxable to the employee.
Employees eligible for and electing family benefits can reimburse medical costs for children up to 26 years old, under the same terms as their health insurance coverage.
Requirements
The Small Business HRA is a stand-alone HRA now available to business with fewer than 50 full-time employees. Our $199 plan documents package will enable you to establish your HRA within the law's rules.
This return of the affordable HRA must:
Be provided on the same terms to all eligible employees (based on individual or family status);
Be funded solely by the employer with no salary reduction contributions from the employee;
Provide, after an employee provides proof of coverage, for the costs of medical expenses for employees and their family members through direct payment or reimbursement; and,
Limit annual payments and reimbursements to specified dollar amounts which are, in 2017, $4,950 for single and $10,000 for family coverage (amounts will be indexed per inflation annually).
Start Your New HRA Today!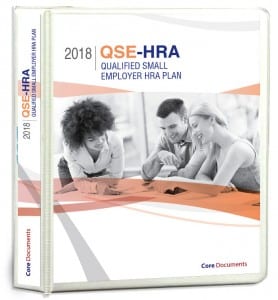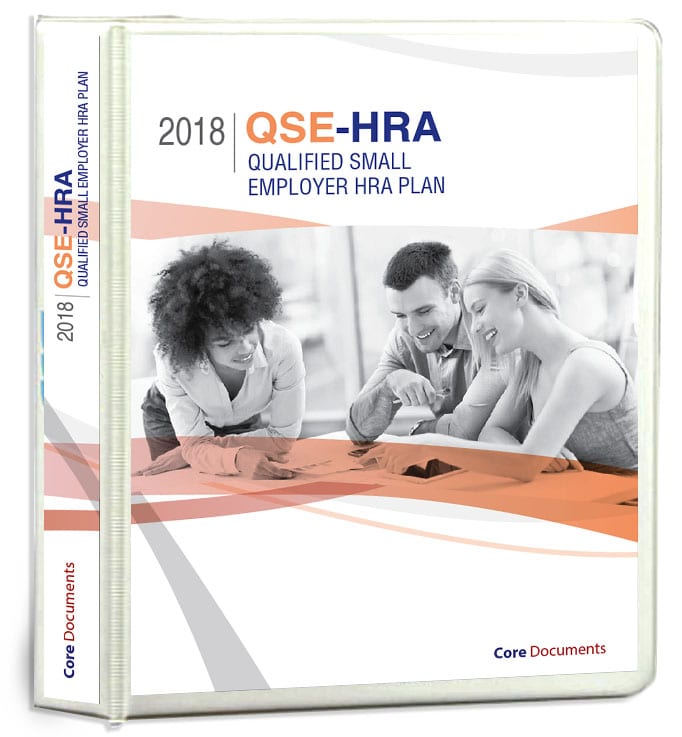 The QSE-HRA lets Qualified Small Employers (those with 50 or fewer employees) offer a Health Reimbursement Arrangement (HRA) that uses tax-free dollars to reimburse employees who purchase individual (non-group) health insurance premium on the individual market or the ACA exchange, along with out-of-pocket medical, dental, and vision  benefits.
For 2017 the maximum allowed annual benefit is $4,950 per employee electing individual coverage, and $10,000 per employee electing family coverage.
For 2018 the maximum allowed annual benefit is $5,050 per employee electing individual coverage, and $10,250 per employee electing family coverage.
Limited Time Offer at $199
Our friendly and knowledgeable staff is available to
answer any questions you may have via e-mail or phone call,
Monday through Friday, 9 am to 5 pm ET:
1-888-755-3373
Core Documents will notify you when there are sufficient changes in the Code to require amending and restating your Plan.  You can amend and update anytime for just $199, and only when necessary which is the most cost effective way to establish and maintain a HRA Plan.
*Most documents go out the same day via email within hours M-F. Orders placed on the weekend will be emailed Monday morning. Keep in mind that December, January, and February are our busiest months of the year and documents are processed in the order they are received. The Rush Order fee ($25) simply brings your document to the top of the stack to be processed immediately.
Related Posts
QSEHRA: The Stand-Alone HRA Returns
Small Employer HRA Update & FAQs (QSE HRA)
HRAs remain good tax savings option for small business
Meet Core Documents
Core Documents, Inc. has been providing free consulting, affordable plan documents, and plan updates as needed for Section 125 Cafeteria Plans and Health Reimbursement Arrangements since 1997.
See more information about these fringe benefit plans at Core Documents' website: https://www.coredocuments.com or call toll free 1-888-755-3373.
Core Documents retains the services of several ERISA Benefit Attorneys for up to the minute commentary on issues affecting plan document language and administration.
All of our plan documents have been thoroughly reviewed by numerous CPAs and law firms who have found them to be clear, concise, compliant and cost effective.
Our Mission
Core Documents is committed to helping our clients and their employees reduce income tax liability with compliant Plan Documents and Summary Plan Descriptions that allow them to deduct insurance premiums, out-of-pocket medical expenses, dependent care expenses, and commuter and parking expenses before payroll taxes are calculated.
Our Clients
Our clients include small employer groups, PEOs, national payroll companies, certified public accountants, third-party administrators, agents, brokers, a network of hundreds of Flex Affiliate websites, and law firms.
Many PEOs, payroll companies, CPAs, accountants, and attorneys private label Core Documents' plans to their clients through our Flex Affiliate program.
Our Market
We sell documents and annual document maintenance, as well as state-of-the-art web based administration services, and do-it-yourself Excel administration software. Our target market is the small employer, normally with less than 100 employees. We offer online ordering at our website as well as a fax order form (.pdf download).
Our Founder
The President of Core Documents, Gene C. Ennis, has held:

♦ Certification in Flexible Compensation, (CFC) by the Employers Council on Flexible Compensation,
♦ A 218 Life and Health Insurance license offering Section 125 plans since 1989,
♦ A Third Party Administrator's (TPA) license administering ERISA self-funded health and welfare plans,
♦ Professional Employer Organization (PEO) license with co-employer responsibility for 500 work site employees,
and,
♦ PEO Controlling Person's license.