<< Back to blog
Why Every Employer Should Have a Section 129 DCAP FSA Plan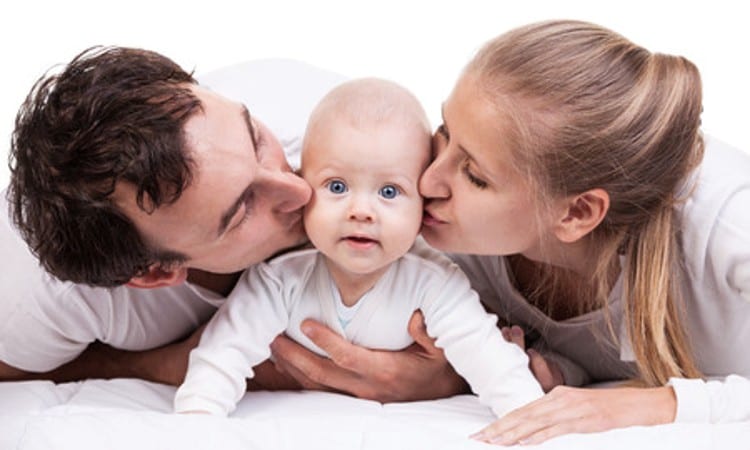 ---
If you are a small business owner with at least one employee, you should have a Section 129 DCAP FSA plan. This article from Gene Ennis, president of Core Documents, explains why.
---
The Dependent Care Assistance Plan (DCAP) Flexible Spending Account (FSA),authorized under IRC Section 129, is an attractive benefit for employees who pay for childcare arrangements or adult daycare for their parents. Many employees don't take advantage of this benefit and may be unaware of the significant tax savings.Qualified dependent care expenses may include, but are not limited to:
The care of a child under the age of 13,
Daycare for parents,
Care for a disabled spouse or a dependent incapable of caring for himself, and
Summer day camps.
That is, of course, provided the expenses are incurred so the employee may work, look for work, or attend school full time.
Tax Savings
Under a Section 129 DCAP FSA plan, employees may deduct as much as $5,000 annually of their salary for dependent care expenses on a pre-taxed basis. In other words all their dependent care expenses to a maximum of $5,000 is taken right off the top of their income before taxes are calculated and withheld. By paying for dependent care with pre-tax dollars, your employees can save approximately 20 to 40 percent on their child-care expenses (depending on their tax bracket).
Employers struggling to cover overhead in a failing economy should consider that there could be as much as $1,000 in tax savings per employee who utilize a company Dependent Care Assistance Plan (DCAP) Flexible Spending Account. Every dollar processed through a Section 129 DCAP FSA plan reduces the employer's payroll so that employers don't have to pay FICA, FUTA, or workers' compensation premiums (depending on your State) on those pre-tax employee dollars. In many cases, these savings can add up to as much as 20 percent of every dollar being passed through the plan.
How DCAPs Work
The best part about these plans is that most of your employees are already paying for these expenses out of their own pockets with after-tax dollars. The Section 129 DCAP FSA plan offers them a remarkably easy way to save money they're already spending.
Here's how the Section 129 DCAP FSA plan works:
Prior to the beginning of each plan year, an employee estimates how much they will spend in out-of-pocket dependent care expenses during the course of their plan year. (The plan year would be defined in their summary plan description). Note: On or after the first day of the plan year, an employee is restricted from changing or revoking the section 129 agreement with respect to the pre-tax deductions until the plan year has ended unless a "change in family status" occurs (as defined under the federal tax code) and the change is consistent with the "change in family status."
This amount is then deducted over the course of the plan year from the employee's paychecks prior to being taxed and is deposited into their flexible spending account.
Your employees pay their qualifying out-of-pocket expenses upfront and then submit a claim with documentation to the plan administrator.
A reimbursement is made from their own DCAP account with pre-taxed dollars and sent to them in the form of a check. (Or, if the employer chooses, Core Documents can handle the administration of claims for as little as $9 a month per employee).
The Section 129 DCAP FSA causes no liability to the Employer. Unlike the health FSA's uniform coverage rule (which requires the full annual election to be available for reimbursement on the first day of the Plan Year), the employee can only be reimbursed for dependent care FSA expenses up to the amount that has already been deposited into the account using pre-tax dollars from their payroll.
Administration
There are several administrative procedures that must be met to comply with Section 125 code legal requirements (Section 129 DCAP FSA plans are part of the employer's Section 125 POP):
A plan document must be established. This document outlines specific details, such as a description of the employee benefits that are covered through the plan, participation rules, annual limits, election procedures, eligibility and employer contribution. It also defines the plan year. See Core Documents web page outlining the Section 129 DCAP FSA Plan Document package HERE.
A summary plan description (SPD) must be distributed to all participants. Section 104(b) of the Employee Retirement Income Securities Act of 1974 (ERISA), the basic law designed to protect the rights of participants and beneficiaries of employee benefit plans, requires that an SPD must be distributed to all participants no more than 90 days after an employee becomes a participant or within 120 days of the plan becoming subject to ERISA. The SPD summarizes specific details of the plan, claim filing procedures, and information concerning plan sponsorship and administration.
There are ongoing compliance requirements. The laws are constantly being updated. For example, federal legislation requires that section 125 plans can't discriminate as to eligibility and benefits being provided. Failure to meet the nondiscrimination requirements would eliminate the tax-free status of the benefits provided to the highly compensated or key employees.
Core Documents, Inc. has been providing free consulting, affordable plan documents, and plan updates as needed for Section 125 Cafeteria Plans and Health Reimbursement Arrangements since 1997. See more information about these fringe benefit plans at Core Documents' website: http://www.coredocuments.com, or call toll free 1-888-755-3373.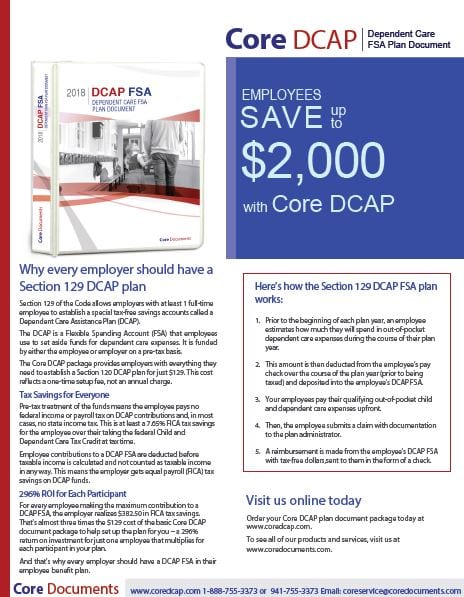 Core Documents will notify you when there are sufficient changes in the Code to require amending and restating your Plan.  You can amend and update anytime for just $99, and only when necessary which is the most cost effective way to establish and maintain a Section 129 Dependent Care Assistance Plan FSA.
**Most complete document orders placed by 3 PM will be emailed out the same day Monday through Friday. Orders placed on weekends are emailed out Monday morning. Keep in mind that December, January, and February are our busiest months of the year and documents are processed in the order they are received. The Rush Order fee ($25) simply brings your document to the top of the stack to be processed immediately.

Also see: Why Every Employer Should Have a Section 129 Dependent Care Assistance Plan (DCAP) Flexible Spending Account (FSA)
More articles on Section 129 DCAP FSA plan and related topics:
FAQ – Health FSA and Dependent Care Assistance Plan DCAP FSA
Can an Employer/Owner Participate in a Section 129 Dependent Care Assistance Plan (DCAP) FSA?
Dependent Care Assistance Plan FSAs Video from Core Documents