Health FSA Plan Document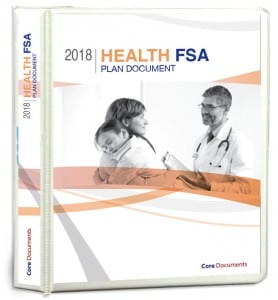 Employees Save up to $1,040* with Tax-Free Medical, Dental, Vision Expenses at Work

$129 one-time fee in PDF via email**
$179 one-time fee in PDF email** + Deluxe Binder via USPS
Health Flexible Spending Account (FSA), previously known as Medical Expense Reimbursement Plans or Medical FSA plans are special accounts that allow employees to use up to $2,600 in 2017 (increased to $2,650 in 2018) in pre-tax dollars to pay for out of pocket medical, dental and vision care expenses not covered by other insurance.
The Health FSA reduces payroll taxes for both the employer and the employee making it a popular benefit option. For the employee it's like getting a 30% to 40% discount on medical, dental and vision care expenses. The employer realizes up to 7.65% in matching FICA tax savings.
Employers recoup the small $129 one-time setup fee quickly and then continue to realize tax savings year after year.
* Tax Savings Calculations
–  $2,600 Maximum X up to 40% payroll taxes = up to $1,040 savings per employee
–  $2,600 Maximum X 7.65% Matching FICA Tax =  $198.90 savings to the employer per employee
Core Documents provides employers with everything they need to establish an IRS- and DOL-compliant Section 125 Health FSA plan in PDF format for just $129. This cost reflects a one-time setup fee, not an annual charge. For an additional $50, employers can choose the Deluxe Binder option that includes the PDF email version plus a printed plan document in a 3-ring binder.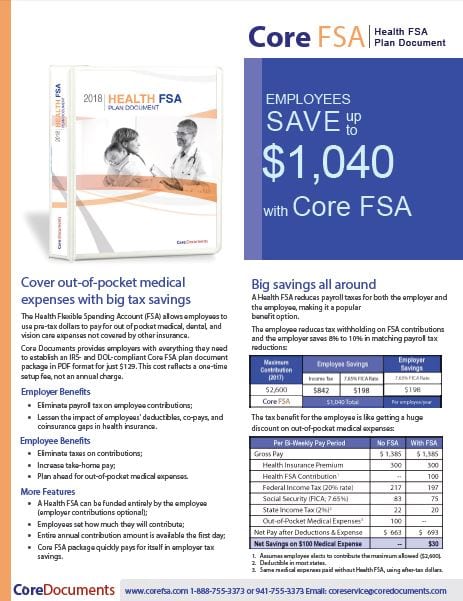 Core Documents will notify you when there are sufficient changes in the Code to require amending and restating your Plan.  You can amend and update anytime for just $99, and only when necessary which is the most cost effective way to establish and maintain a Section 125 Health FSA Plan.
**Most complete document orders placed by 3 PM will be emailed out the same day Monday through Friday. Orders placed on weekends are emailed out Monday morning. Keep in mind that December, January, and February are our busiest months of the year and documents are processed in the order they are received. The Rush Order fee ($25) simply brings your document to the top of the stack to be processed immediately.


2018 Inflation Adjusted Health FSA Limit
The IRS announced the annual inflation adjustments for 2018 in Revenue Procedure 2017-58, which includes an increased contribution limit:
2018 Healthcare FSA annual contribution limit: $2,650 (increase of $50)
For complete details on the 2018 IRS Inflation Adjustments, please view: https://www.irs.gov/pub/irs-drop/rp-17-58.pdf 
Treasury Modifies "Use-or-Lose" Rule for Health FSA
The Department of Treasury has modified its FSA "use-it-or-lose-it" provision to allow a limited rollover of FSA funds.
Details are as follows:
Effective in plan year 2014 and after, employers that offer FSA programs will have the option of allowing participants to roll over up to $500 of unused funds at the end of the plan year.
Effective immediately, employers that offer FSA programs that do not include a grace period will have the option of allowing employees to roll over up to $500 of unused funds at the end of the current 2013 plan year.
The major benefits of this new "rollover" provision include:
Eliminating the most significant impediment to FSA adoption (use-it-or-lose-it) – creating significant upside for FSA adoption growth, which has been limited over the past several years
Enhancing healthcare options and offering greater funds protection for FSA participants, particularly lower & middle income workers who are highly concerned about cash flow
Minimizing risk for constituents with unpredictable healthcare expenses, such as those dealing with chronic conditions that may necessitate high-cost procedures/services with ambiguous timing or medical necessity
Curbing wasteful & potentially unnecessary end-of- year spending by FSA participants seeking to avoid losing unused funds
See:   http://www.irs.gov/pub/irs-drop/n-13-71.pdf
What Is a Health FSA and How Does It Work?

PDF Brochure:  Core Health FSA Plan Documents and Forms
Here's how Health FSA Plans work:
Each year the sponsoring employer allows an FSA open enrollment period where each employee is given the opportunity to decide how much money they estimate they'll spend in healthcare, dental and vision care expenses for the coming year. Each employee then elects this amount to be divided into regular payroll deductions and deposited into their Health FSA account.
Employees then turn in receipts for qualifying medical, dental and vision care expenses to be reimbursed from their tax-free Health FSA account.
Qualifying Health Flexible Spending Account expenses include:
Vision Expenses including Glasses and Contacts
Health Plan Deductibles
Rx – Prescription Drugs
Health Plan Co-Payments
Orthodontic Procedures
Chiropractic Charges
Dental Charges
Blood Work
X-ray
For a complete list see: Medical Expenses That Qualify 
What About FSA Administration, Do I Need An FSA Administrator?
That depends. Most of our competitors would try and convince you FSA Administration is much too difficult for you to try yourself, and then they assign your account to one of their lowest paid employees.
If you prefer not to add the additional workload to your staff Core Documents offers state-of-the-art online administrative services starting at only $9 a month.
Each employee receives a MasterCard Debit Card to access the funds in their account without having to spend their own money and wait for reimbursement.
Core Documents has no minimum monthly fees for small accounts so this is an ideal solution for some clients. Click here to see Core's Administrative services.
For those clients that would rather not spend the extra money every month for administrative services Core Documents offers a robust 10 megabyte Excel Spreadsheet Template for $49 that will manage up to 200 employees and up to six accounts for FSA, DCAP, HSA, HRA, Parking and Transit plans. Click here to see more information about $49 CoreData Administration Software.
When Is The Best Time To Start A FSA Plan?
Anytime. Health FSA Plans can be started anytime.
The misconception is they need to be started January 1 and run through December 31.
The fact is you can start a Plan anytime of the year.
If you prefer a calendar year, January 1, through December 31, and it's mid-year, you can always have a short Plan Year the first year, i.e. June 1, through December 31, and your second year will be back on a calendar Plan Year.
However, it is not unusual to align the Plan Year to your tax year, the renewal of health insurance, or any other reason. Our application addresses Short Plan Years if requested.
What About Existing Section 125 FSA Plans Already In Place, That Need To Be Updated?
If you already have an FSA Plan you started years ago, you can amend and restate the Plan anytime.
Our order forms address the amended and restated document start dates.
We simply need the original start date of your old plan so we can maintain the continuity back to the original start date.
It's not unusual for a employer to misplace a Plan Document and need to replace it.
If your document was written before 2010, it certainly needs to updated as soon as possible.
So many changes have taken place in IRS Code and new laws that today's Plan Document is almost 15 pages larger than documents prior to 2014. This means you may be making administrative decisions based on outdated information.
So What Exactly Will I Get From Core Documents for $129, How Does This Work?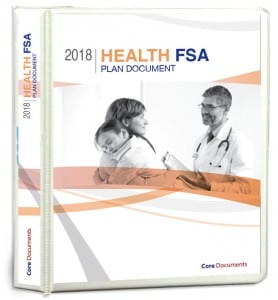 The Section 125 Health FSA Plan can be combined with the Section 125 Premium Only Plan and a Section 129 Dependent Care Assistance Plan for a full plan.
Many purchase just one of the three components. It's up to you and your specific needs.
Core Documents provides you with custom FSA plan documents prepared specifically from the variable criteria you provide in the application. We do not sell fill-in-the blank document templates that can be used for numerous clients.
You will receive a single user license for the Plan Document, or combination of Plan Documents of your choice.
The basic PDF plan document package delivered via email is only $129, the deluxe printed plan document package in 3-ring binder (delivered via Priority Mail) plus the PDF email version is only$179.00
PDF Brochure:  Core Health FSA Plan Documents and Forms
Each Plan Document package consists of five sections: 
Section 1 is the Board Resolution to Adopt the Plan;

Section 2 is the IRS required Section 125 Plan Documents, signature ready;

Section 3 is the Section 125 Summary Plan Description required by the Department of Labor;

Section 4 contains the Election Forms, Claim Forms, and Change Forms needed to operate the Plan;

Section 5 contains a complete Administrative Guide designed to be a resource as needed for administrative questions.
For an additional fee you can purchase a CD with the Summary Plan Description in PDF format and the Forms in MS Word format for revision, edits, etc. Without the Forms on the disk you will have to photocopy the Summary Plan Description as needed for all employees and type changes into the forms. 
So, I've Purchased a Section 125 Health FSA Plan From Core Documents, What's Next?
Your signature ready custom Health FSA Plan Document will arrive via email  shortly after you place the order. If you choose the deluxe printed 3-ring binder option it will arrive normally within a week via Priority Mail.

Your plan document will include a complimentary summary of Plan Sponsor responsibilities.

You do not have to file a copy of the Plan Document with any governmental entity.

Also, Annual 5500 filing was suspended in 2002 for all plans except those with over 100 participants in a Health FSA. (That was 100 Participants, not 100 Employees, and it only applies to Health FSA Plans).

You will distribute a copy of the Summary Plan Description to every Eligible Employee and a copy of the Election forms.

Every employee should complete a new Election form designating their specific deductions each year.

These forms should remain on file in the event of an audit or review.
Do I need a Trust Account or Special Bank Account to Hold The Funds?
No trust account is required by the IRS Code. ERISA may require a special trust account, however they have decided not to enforce the need for a trust account. It is generally accepted that a trust account is not necessary if separate accounting is maintained within the company's general asset account.
Does Your Existing Health FSA Plan Need To Be Updated?
See a Core Documents' blog post regarding the Post-ACA Health FSA annual limit:   Health Care Reform $2,500 Health FSA Limit (2014) – If Health FSA Is Not Amended It Fails To Be a Cafeteria Plan
Summary: The Internal Revenue Service released Notice 2012-40 providing guidance on the application of the Affordable Care Act's $2,500 in 2014 ($2,600 in 2017) limit on employee pre-tax contributions to health fsa's. Effective for plan years after December 31, 2012 Health Care Reform (ACA, ObamaCare) limits Health FSA contributions to $2,600 per plan year in 2017 for employee contributions.  Employers may also contribute to a Health FSA (flex credits) in excess of the $2,600 annual limit.
A cafeteria plan offering a health FSA will need to be amended to comply with the $2,600 2017 limit. If a cafeteria plan utilizing a Health FSA is not timely amended, it fails to qualify as a cafeteria plan and/or Health FSA.  All employee elections of nontaxable benefits under the plan, (e.g., health FSA salary reductions and health plan premium payments), must be included as gross income to the employees.
Refund Policy: Purchaser understands that goods and services provided by Core Documents, Inc. are non-refundable. Orders cancelled prior to shipping are subject to cancellation fees applied to the cost of goods and services provided during the review, draft, and preparation of your order.

Our friendly and knowledgeable staff is available to
answer any questions you may have via e-mail or phone call,
Monday through Friday, 9 am to 5 pm ET:
1-888-755-3373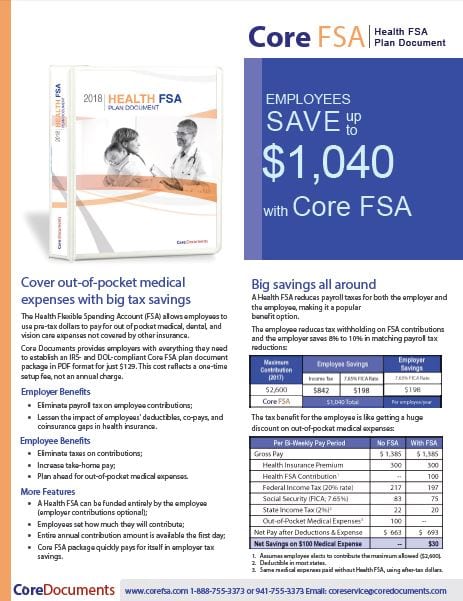 Download the Core Documents Section 125 Cafeteria Plan Employer Guide
HERE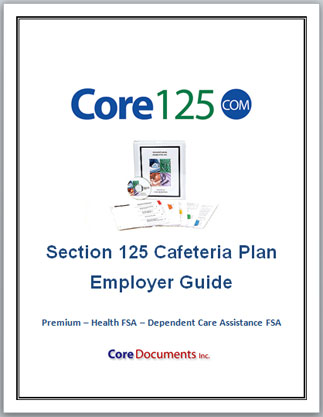 Other  Health FSA Blog Posts:
HSA Plan and Health FSA Combined – What is a Limited Purpose FSA?
Employer Funded Health FSA W2 Reporting Guidance – HRA and HSA Excluded
What are the differences between an HSA, HRA and an FSA?
New $2,600 Health FSA Limit for 2017
Why Amend and Restate Section 125 Cafeteria Plan Documents? IRS Rulings since 1999 on one page.