Section 125 Premium Only Plan & HSA Module

Save an Extra 8% with Tax-Free

Insurance Premium & HSA Savings at Work



$129 one-time fee in PDF via email*
$179 one-time fee in PDF email* + Deluxe Binder via USPS
The $99 Section 125 Plan plus the $30 HSA Module from Core Documents allows both an employer and employee to realize an additional 8% savings by using pre-tax employee dollars to fund a Health Savings Account (HSA). Savings for the employer usually average between 8% and 10% over the Section 125 Plan alone. This additional savings comes from the employer's matching Social Security (FICA), Federal Unemployment (FUTA), and often state unemployment tax dollars while employees save an additional 7.65% in FICA taxes.
However, this extra savings is lost to both the employer and the employee if the HSA savings is deducted on the employees annual tax return, instead of by payroll deduction.
Core Documents provides employers with everything they need to establish an IRS- and DOL-compliant Section 125 with the HSA Savings module plan in PDF format for just $129. This cost reflects a one-time setup fee, not an annual charge. For an additional $50, employers can choose the Deluxe Binder option that includes the PDF email version plus a printed plan document in a 3-ring binder.

Our secure encrypted online ordering system accepts:

If you prefer to order by fax, click here.
Video:

Executive Summary

of the Section 125 POP with HSA Savings



03:15 Minutes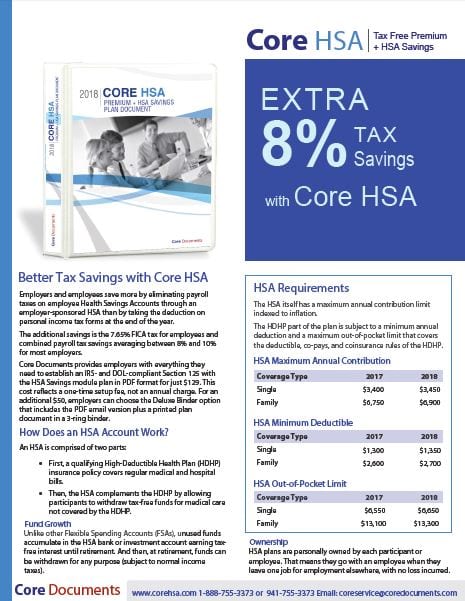 Core Documents will notify you when there are sufficient changes in the Code to require amending and restating your Plan.  You can amend and update anytime for just $79, and only when necessary which is the most cost effective way to establish and maintain a Section 125 Plan with the HSA Module.
*Most complete document orders placed by 3 PM will be emailed out the same day Monday through Friday. Orders placed on weekends are emailed out Monday morning. Keep in mind that December, January, and February are our busiest months of the year and documents are processed in the order they are received. The Rush Order fee ($25) simply brings your document to the top of the stack to be processed immediately.


Related:  2017 Maximum HSA Contribution for Individuals Adjusts Upward
How Does an HSA Account Work?
An HSA is comprised of two parts:
First, a qualifying High-Deductible Health Plan (HDHP) insurance policy covers regular medical and hospital bills.
Then, the HSA complements the HDHP by allowing participants to withdraw tax-free funds for medical care not covered by the HDHP using pre-tax contributions made to an investment account, retirement account, or HSA bank account.
Unlike a Flexible Spending Account (FSA) which has an annual use-it-or-lose-it period, unused funds accumulate in the HSA bank or investment account earning tax-free interest until retirement, when it can be withdrawn for any purpose (and will be subject to normal income taxes).
HSA plans are personally owned by each participant or employee. Therefore, they go with an employee when they leave one job for employment elsewhere.
How Does an HSA Affect Section 125 Cafeteria Plans?
HSA Plans affect Section 125 Plans in two ways:
The HSA savings component deposited into the investment or bank account can also be deducted through the Section 125 Premium Only Plan; however, the Section 125 POP Document needs to be updated to accommodate the new benefit.
The HSA will also limit medical expenses that can be reimbursed by the Section 125 Health FSA. In order to maintain the tax-free status of the HSA savings account the IRS maintains that employees cannot have duplicate coverage that could pay expenses applicable to the HSA deductible.
Please Note: HSA participates who also participate in a Section 125 FSA can have a "Limited Purpose Health FSA Plan" that will only pay for dental, vision and preventive care expenses, or a "Post Deductible Health FSA," which will only pay benefits after the HSA deductible has been satisfied. Core Documents' Section 125 Plan with HSA module documents are designed to accommodate these HSA options.
What Are the Latest HSA Contribution Limits?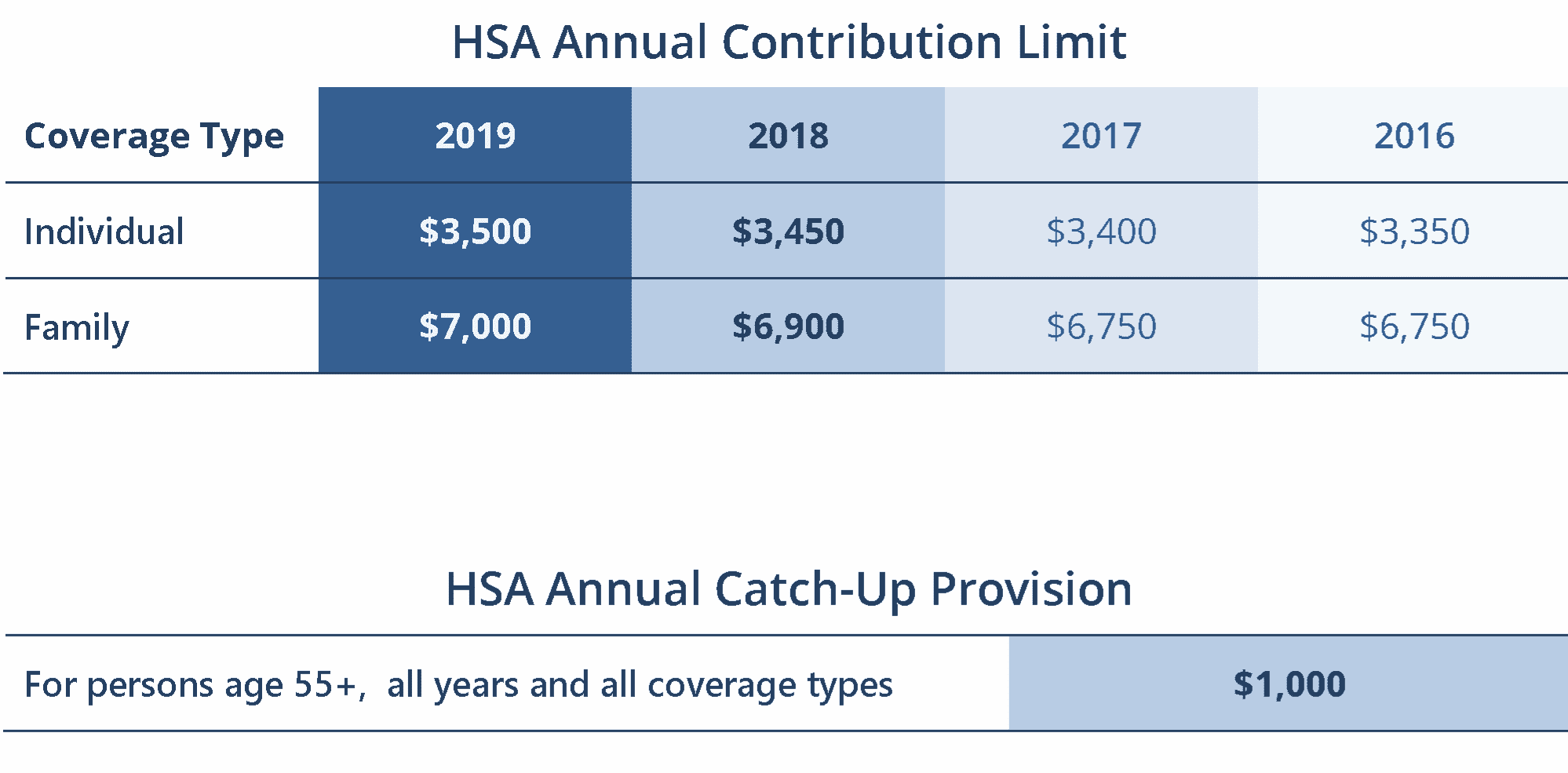 HDHP limits
Other inflation adjusted amounts for HSAs in 2019 relate to the high-deductible health plans (HDHP) that the HSA owner (employee) is required to have alongside the HSA. These figures cover the minimum deductible amount and the maximum out-of-pocket amount.
The minimum deductible of an HDHP is unchanged for 2019. Self-only coverage remains at $1,350, and family coverage at $2,700.

The out-of-pocket limit includes all amounts paid by the HSA owner (employee) during a plan year. These costs encompass the deductible, co-pays, and co-insurance. In 2019, the out-of-pocket maximum allowed under an HDHP for HSA owners rises to  $6,750 for those with individual coverage and $13,500 under family coverage.

Related:  Small Business HRA Relief becomes law – Core Documents offers package for $199
How Does the Participant Take the HSA Tax-Free Deduction?
There are two ways Participants can take the HSA deduction:
Year-End Tax Return HSA Deduction:
For the participant that will write-off HSA funds from their annual tax return, tax-free means they only avoid paying federal income tax. They're still responsible for paying the 7.65% Medicare and Social Security taxes. This method saves the participant 15% to about 32% in federal tax write-offs, depending on their tax bracket.
Deducting HSA savings through a Section 125 Plan with the HSA Module:
For HSA participants fortunate enough to have an employer with a Section 125 Plan modified to allow HSA deductions, tax-free means the participant avoids federal income tax and FICA taxes which include Medicare and Social Security. This method saves the employee anywhere from 22.65% to about 40%, again depending on their tax bracket.
How Does the Employer Qualify for these Additional Savings?
An important fact often missed by CPAs, payroll companies, employers, insurance carriers and agents is how to pre-tax the HSA savings portion going into the investment or HSA bank account.
This HSA savings piece can be pre-taxed through an employer's Section 125 Premium Only Plan (POP); however, greater savings can be achieved by modifying the standard plan with a Section 125 Plan HSA Module that allow the employee to pretax the HSA savings portion through convenient employee payroll deductions.
For Accountants, CPAs, Payroll Companies, and PEOs who need to validate this please see the high-lighted areas of the following IRS and Treasury documents: IRS Notice 2004-50 and All About HSAs printed by the US Department of the Treasury.
Also, see the second question on the Employer Participation in HSAs Q & A page on the US Department of the Treasury website at: HSA Frequently Asked Questions.
The Section 125 Plan Document Package with HSA Module from Core Documents
Core Documents has developed a $30 HSA module for the $99 Section 125 POP that allows the HSA savings component to be pre-taxed. Employers receive everything they need to establish the full Section 125 Plan with HSA Module for only $129.00. Here is a list of what the plan documents package includes:
Resolution to Adopt,
Plan Document,
Summary Plan Description,
Election Forms,
Claim Forms, and
Administrative Instructions.
You've Ordered A Section 125 Plan Document with HSA Module, What Happens Next?
The Section 125 plan with HSA Module plan document will be delivered signature-ready in either PDF format via email, or in a PDF via email AND in a printed 3-ring binder delivered via Priority Mail.
Upon receipt, you (the employer) will:

Sign the Section 125 Plan with HSA Module document in two place highlighted,
Distribute the SPD to all employees, and
Collect HSA election forms from employees participating in the plan.

Your Section 125 Plan with HSA Module plan document does not need to be filed with any governmental entity; however,
The HSA plan document does need to be held on site and made available in the event of an IRS audit or DOL inquiry, or if an employee requests to view the document.
Funds for the Section 125 Plan with HSA Module can accumulate in the general asset account of the company until payment is due.
An HSA trust account is not necessary.
Discrimination testing and updating the Section 125 Plan HSA Module document will be required annually.
Employee elections for premium and HSA savings do not get reported on the W2 at the end of the year.
Ready to order your Plan Documents?
It's easy with our online order or fax form!

 Our friendly and knowledgeable staff is available to
answer any questions you may have via e-mail or phone call,
Monday through Friday, 9 am to 5 pm ET:
1-888-755-3373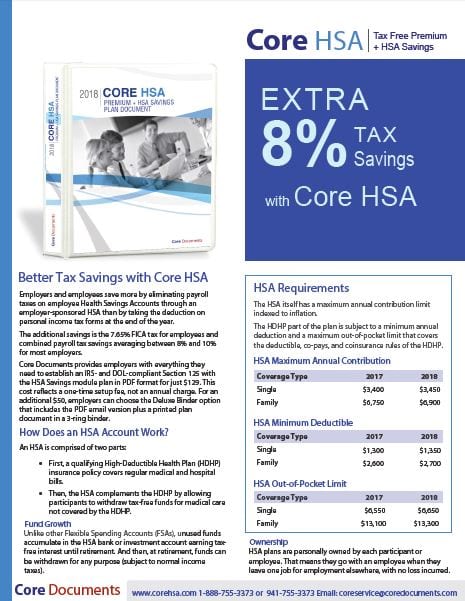 We also have a fill-in FAX order form (.pdf). Click here to complete or to download/print it.
 Refund Policy: Purchaser understands that goods and services provided by Core Documents, Inc. are non-refundable. Orders cancelled prior to shipping are subject to cancellation fees applied to the cost of goods and services provided during the review, draft, and preparation of your order.

Download the complimentary Core Documents Section 125
Cafeteria Plan Employer Guide,
HERE.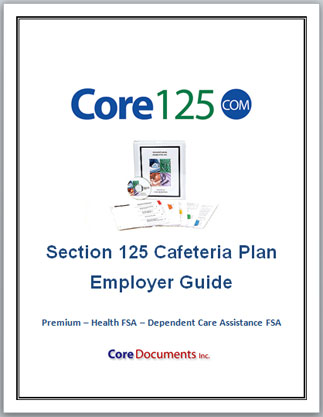 Read our recent blog posts related to the Section 125 Plan HSA Module topic:
 Why Your Business Needs a Section 125 Cafeteria Plan Document
HSA Administration with Debit Card and How To Coordinate with HRA/Health FSA
HSA Plan and Health FSA Combined – What is a Limited Purpose FSA?
HSA Integral to GOP Obamacare Repeal & Replace
---
HSA Resources
HSA Road Rules for Employers and Employees from The HSA Coalition by Dan Perrin, January 2007, 5th Edition.
An Overview of Health Savings Accounts (HSAs) with Comparison to Archer MSAs, Health Reimbursement Arrangements (HRAs) and Flexible Spending Accounts (FSAs) , by Miller & Chevalier Chartered.
All About HSAs – US Treasury Department, Washington, DC, February 1, 2005
IRS Notice 2004-2 – Questions and Answers regarding Health Savings Accounts
IRS Notice 2004-50 – Health Savings Accounts – Additional Q&A – Part III – Administrative, Procedural, and Miscellaneous