Don't forget to download the free Employer Guide to Section 125 POP Plans (below)
$99 Section 125 POP Package Includes: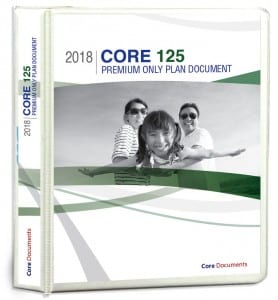 Section 125 Premium Only Plan Document – The Section 125 POP Plan Document is personally prepared for each client. Upon receipt, it should be accepted and signed by an Officer of the Company, and then kept on file for review by employees, accountants, IRS, etc.
The Plan document can be purchased in basic PDF format and emailed to you ASAP for just $99, or choose the deluxe version for $149 (includes basic PDF format sent via email as soon as your document is ready plus a printed version in a 3-ring binder via USPS Priority Mail).
Summary Plan Description (SPD) – Required for each employee. Explains the Section 125 Plan Purpose, Who is Eligible, How To Enroll, etc. in easy to read language. Also includes all information required by the Internal Revenue regarding the Section 125 POP Plan Year Start and End Dates, Agent for Legal Service, Fed. ID#, and information regarding COBRA, FMLA, and required DOL information.
Premium Election Form – Personalized for the Company it will include the Section 125 Salary Deduction Agreement, and Benefit Election data of health plans included.
Administrative Handbook – Includes sections on: Section 125 Administration, Non-Discrimination Testing, and Reporting and Disclosure information. You will be provided with instructions regarding Section 125 Plan setup, maintenance procedures, etc.
Corporate Resolution to Adopt a Section 125 Plan– Includes minutes of the Corporate Board meeting to adopt the Section 125 Plan as an employee benefit.
Order your $99 Section 125 POP Package Today!
Choose the method that works best for you:

Core Documents will notify you when there are sufficient changes in the Code to require amending and restating your Plan.  You can amend and update anytime for just $79, and only when necessary which is the most cost effective way to establish and maintain a Section 125 Plan.
Most complete document orders placed by 3 PM will be emailed out the same day Monday through Friday. Orders placed on weekends will be emailed out Monday morning. Keep in mind that December, January, and February are our busiest months of the year and documents are processed in the order they are received. The Rush Order fee ($25) simply brings your document to the top of the stack to be processed immediately.
Refund Policy: Purchaser understands that goods and services provided by Core Documents, Inc. are non-refundable. Orders cancelled prior to shipping are subject to cancellation fees applied to the cost of goods and services provided during the review, draft, and preparation of your order.
---
Download the

FREE

Core Documents Section 125 Cafeteria Plan Employer Guide HERE.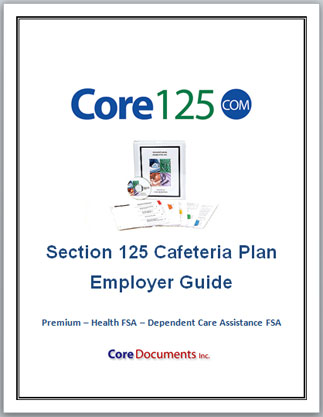 ---
Topics related to the Section 125 POP package:
How To Compare Health Insurance Rates for Small Businesses
Rules for small employer health insurance premium credit
Why Use CoreDocuments.com instead of TaxFreePremiums.com for $99 Section 125 Premium Only Plan POP Documents?
Beware of using an old or FREE Section 125 Premium Only Plan Template
Do I need a Section 125 Premium Only Plan Document?