<< Back to blog
QSE-HRA: The Stand-Alone HRA Returns — Plan Documents Just $199

A Better Group Health Insurance Alternative for Groups with Fewer than 50 Employees
$299  Discounted to $199 one-time fee – in PDF via emal*
$349  Discounted to $249 one-time fee – in PDF email* + Deluxe Binder via USPS
The QSE-HRA lets Qualified Small Employers (those with 50 or fewer full-time employees) offer a Health Reimbursement Arrangement (HRA) that uses tax-free dollars to reimburse employees who purchase individual (non-group) health insurance premium on the individual market or the ACA exchange, along with out-of-pocket medical, dental, and vision  benefits.
For 2017 the maximum allowed annual benefit is $4,950 per employee electing individual coverage, and $10,000 per employee electing family coverage.
For 2018 the maximum allowed annual benefit is $5,050 per employee electing individual coverage, and $10,250 per employee electing family coverage.
Prior to the new QSE-HRA plan design, all HRA Plans with 2+ employees had to be integrated with an ACA-compliant employer-sponsored group health insurance.
The IRS and DOL only require employers to adopt a formal plan document and SPD to define the benefit design in writing. Then you start saving money.
Limited Time Offer at $199



Our friendly and knowledgeable staff is available to
answer any questions you may have via e-mail or phone call,
Monday through Friday, 9 am to 5 pm ET:
1-888-755-3373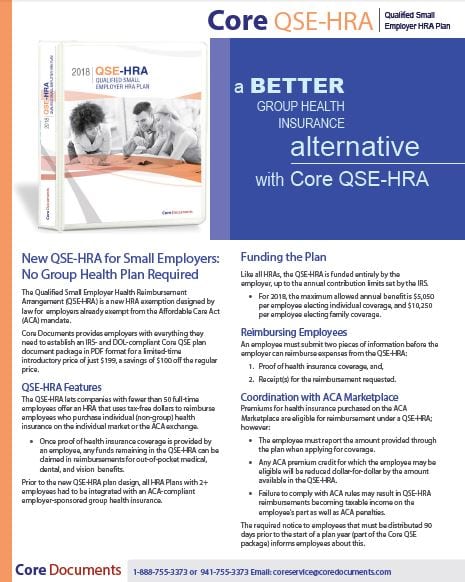 Core Documents will notify you when there are sufficient changes in the Code to require amending and restating your Plan.  You can amend and update anytime for just $199, and only when necessary which is the most cost effective way to establish and maintain a HRA Plan.
*Most documents go out the same day via email within hours M-F. Orders placed on the weekend will be emailed Monday morning. Keep in mind that December, January, and February are our busiest months of the year and documents are processed in the order they are received. The Rush Order fee ($25) simply brings your document to the top of the stack to be processed immediately.

For more information on the QSE-HRA, watch our video and read the article that follows.
2018 Inflation Adjusted QSE-HRA Limit $5,050 / $10,250

The IRS announced the annual inflation adjustments for 2018 in Revenue Procedure 2017-58, which includes an increased contribution limit:
2018 QSE-HRA annual contribution limit: $5,050 Individual (increase of $100); $10,250 Family (increase $250)
For complete details on the 2018 IRS Inflation Adjustments, please view: https://www.irs.gov/pub/irs-drop/rp-17-58.pdf 
Page 27 of 28 Excerpt:
.56 Qualified Small Employer Health Reimbursement Arrangement. For tax years beginning in 2018, to qualify as a qualified small employer health reimbursement arrangement under § 9831(d), the arrangement must provide that the total amount of payments and reimbursements for any year cannot exceed $5,050 ($10,250 for family coverage).
---
The Stand-Alone HRA and the ACA
At one time, stand-alone HRA's were a common feature in small business employee benefit packages. It allowed the small employer to provide financial assistance to help cover insurance premiums, deductibles, co-pays, and other qualifying health, dental, and vision expenses an employee encountered during a Plan year.
The stand-alone option was not the only kind of HRA available toemployers, but it filled a niche for smaller business owners. The HRA could be set up to cover expenses like deductibles and co-pays in conjunction with a high-deductible health insurance plan provided by the company. This HDHP or Gap plan is still available, but it is and has always been somewhat out of reach for small employers because of the requirement to purchase a group health plan before it was viable.
That is why the stand-alone HRA option was a much better fit and an extremely popular plan with these business owners for many years. Then, the Affordable Care Act (ACA) came along, and in 2013 the stand-alone HRA was declared ineligible under the new law. Steep fines of $100 per day per employee were levied, up to half a million dollars per year for a business continuing to offer the plan.
Employers had to abandon stand-alone HRA's immediately. The options remaining included the Gap plan or nothing at all, and a lot of smaller businesses were forced to go with the latter.
LATEST NEWS: IRS extends deadline for 2017 QSE-HRA

employers' notice to employees until further guidance is issued on required content of notice.
The Stand-Alone HRA Returns as the QSE-HRA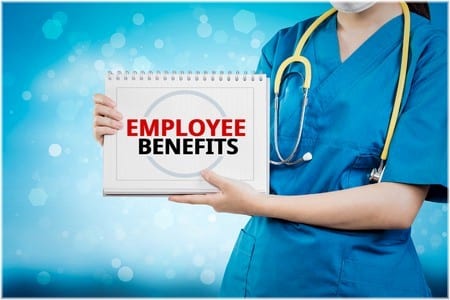 In June 2016, Congress revived the stand-alone HRA by passing the Small Employer Healthcare Relief Act (H. R. 5447). The Senate added the provisions of the bill to the 21st Century Cures Act, which was passed in that chamber on December 7, 2016, and signed into law by the President on December 14, 2016.
The former stand-alone HRA is now known as the QSE-HRA. Plan documents to establish a QSE-HRA for your business are available for just $199 from Core Documents, Inc.
To qualify, an employer must have fewer than 50 full-time employees on any day of the previous calendar year. This includes accounting for part-time and temporary or seasonal staff. If you meet this provision, you will be interested in the others:
Only an employer can contribute to the QSE-HRA; employee contributions are not allowed.
The annual amount that can be contributed by an employer to the Plan is $4,950 per employee electing individual coverage and $10,000 per employee electing family coverage.
The QSE-HRA must be offered to all employees on an equal basis with exceptions for family vs. individual coverage (per above), employees with less than 90 days' employment, part-time or seasonal workers, employees under 25 years of age, and a few other factors having to do with union contracts and citizenship.
QSE-HRA funds may be used by employees to pay qualifying medical expenses including health insurance premiums.
Health insurance premiums for insurance purchased on the ACA Marketplace now qualifies for reimbursement under the QSE-HRA, but any amount received through an employer-sponsored QSE-HRA must be offset against any payment credit received in the Marketplace (pro-rated monthly).
The employer must verify that the employee has qualifying health insurance (requiring proof of coverage) before issuing any reimbursements from the QSE-HRA.
Written notice must be provided to qualifying employees 90 days prior to the start of each Plan year indicating the amount of the benefit available under the Plan, stating that the employee must inform the ACA Marketplace of the Plan amount when purchasing health insurance there, and advising that failure to maintain qualifying health insurance coverage throughout the Plan year will result in the standard ACA penalty plus cause all reimbursements from the Plan to be taxable income (for this reason, the benefit amount must be reported on employees' W-2's).
The QSE-HRA is not eligible for COBRA continuation of benefits.
Related: Small Employer HRA Update & FAQs (QSE HRA)
Get Your QSE-HRA Plan Documents Today!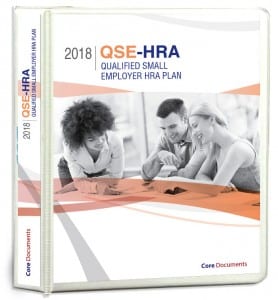 Don't put off securing this important employee benefit. Core Documents offers its premium Plan documents for the QSE-HRA at just $199 (a savings of $100 compared to other HRA packages). If you need help with Plan administration, we offer that, too — just check the box on the order form.
For your convenience, we offer an online order form that thoroughly guides you through the ordering process. Just click the button below to get started.


 Our friendly and knowledgeable staff is available to
answer any questions you may have via e-mail or phone call,
Monday through Friday, 9 am to 5 pm ET:
1-888-755-3373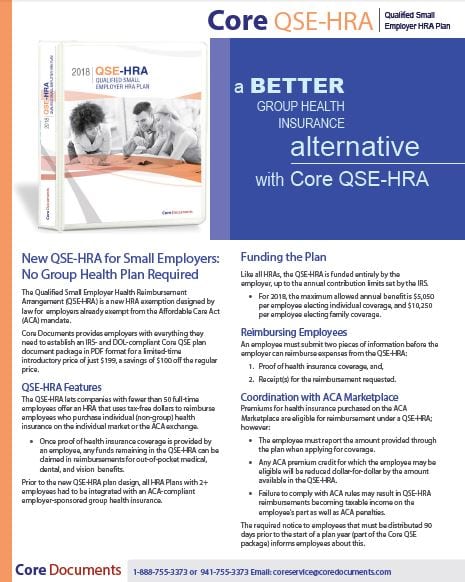 ---
About Core Documents

Core Documents, Inc. has been providing free consulting, affordable plan documents, and plan updates as needed for Section 125 Cafeteria Plans and Health Reimbursement Arrangements since 1997.
Core Documents retains the services of several ERISA Benefit Attorneys for up to the minute commentary on issues affecting plan document language and administration. All of our plan documents have been thoroughly reviewed by numerous CPAs and law firms who have found them to be clear, concise, compliant and cost effective.
Our Mission
Core Documents is committed to helping our clients and their employees reduce income tax liability with compliant Plan Documents and Summary Plan Descriptions that allow them to deduct insurance premiums, out-of-pocket medical expenses, dependent care expenses, and commuter and parking expenses before payroll taxes are calculated.
Our Clients
Our clients include small employer groups, PEOs, national payroll companies, certified public accountants, third-party administrators, agents, brokers, a network of hundreds of Flex Affiliate websites, and law firms.
Many PEOs, payroll companies, CPAs, accountants, and attorneys private label Core Documents' plans to their clients through our Flex Affiliate program.
Our Market
We sell documents and annual document maintenance, as well as state-of-the-art web based administration services, and do-it-yourself Excel administration software. Our target market is the small employer, normally with less than 100 employees. We offer online ordering at our website as well as a fax order form (.pdf download).
Our Founder
The President of Core Documents, Gene C. Ennis, has held:

♦ Certification in Flexible Compensation, (CFC) by the Employers Council on Flexible Compensation;
♦ A 218 Life and Health Insurance license offering Section 125 plans since 1989;
♦Third Party Administrator's (TPA) license administering ERISA self-funded health and welfare plans;
♦ Professional Employer Organization (PEO) license with co-employer responsibility for 500 work site employees; and,
♦ PEO Controlling Person's license.